With my 2nd weekly column, I told my boss here at FSBB that I'd like to write about baseball. He asked me what area I wanted to focus on. I said just baseball. I like everything about it. The game, the business, the economics, fantasy, the history and the comical and quirky. Basically, I told him, I'd like to write an article that is apropos of nothing. The Seinfeld Show of FSBB. With that I bring you Kangaroo Court. Much ado about nothing, except baseball of course.
Colby Lewis is trying to dial up the past. We all know what happens when you hit 88mph.
[youtube http://www.youtube.com/watch?v=lfnAb11wKQc&w=350&h=200]
Lewis is currently sitting on an average fastball velocity this year of 88.0 mph.
Good enough for time travel.
This got me thinking.
Marty McFly missed a historic game 7.
The DeLorean had been set to October 27th, 1985.
Marty McFly had been so busy making out with his teen mom that he missed game 7 of the 1985 World Series.
A series that contained historic firsts and lasts.
In winning game 7 by a score of 11-0, the Kansas City Royals became the first team to lose the first two series games at home and comeback to win the series. And they became the first team ever to overcome a 3-1 deficit twice in the same post season. After previously defeating the Blue Jays 4 games to 3 to advance to World Series.
This was the first series to be played entirely at night and the last series to have AL pitchers hit at home.
[youtube http://www.youtube.com/watch?v=hGUuUBsZncA&w=350&h=200]
Game 7 also included two ejections. The first time two ejections occurred in a World Series game in 50 years. Cardinals manager Whitey Herzog was ejected for arguing balls and strikes. As was the pitcher Joaquin Andujar for a misperceived gesture.
Both were ran by home plate umpire Don Denkinger, who Herzog was already feuding with over a missed call at first base in game 6.
Although, I suppose if McFly hadn't returned when he did to save Doc Brown from Libyans we'd never have such a classic film remake as Angels in the Outfield.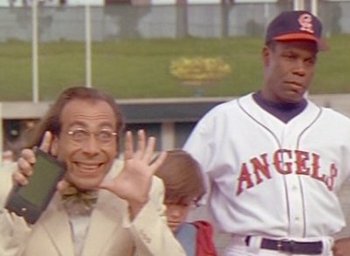 Side note: I once met Denkinger at a Honda dealership owned by an eldery retired minor leaguer.
Dandy Don told me my wife was too pretty for me. I reminded him his eyesight was shit.
We all had a chuckle.